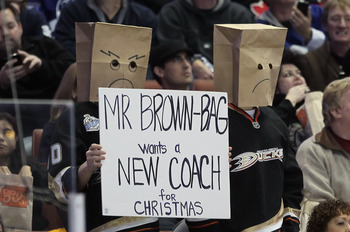 Hey we got a win last night!!!! But im sure that is not what everyone is talking about this morning or even last night. Moments after a pretty solid win by the Ducks last night the bomb was dropped on the public, Randy Carlyle has been let go.
All current things aside, Randy was a great coach for the ducks who did tremendous things for the franchise's development. He helped players like Getzlaf, Perry, Ryan, and Fowler grow and become better hockey players. But with what has happened lately, it was starting to seem that some of the players and even RC himself began to accept losses a lot easier and that is just unacceptable at this level of sports.
---
In With Bruce Boudreau
---
Who else did you expect? As soon as I heard he was fired from the Caps I put him on the top of the list for replacing Carlyle if he got fired. Boudreau like Carlyle is a fantastic coach who just happened to run his full course with a team. Fortunate for Anaheim, we were able to snag Boudreau before letting Carlyle go.
Im sure everyone reading has probably watched HBO's 24/7 with Boudreau and his F Bomb dropping style. Personally I think this is going to give him a slight edge with a younger club. I firmly believe that the younger guys are going to respond much better to this, not necessarily at the yelling portion, but the more informal way Boudreau seems to be. Carlyle is a old money style of coach, hes the coach, do what he says. I think with this change going on, there is going to be a great deal of changes all for the good.
Is it too soon?
Boudreau was just fired from his team of 6 years 2 days ago, 2 DAYS AGO! Did he have enough time to let that all go? Think about it for a second, you work with the same individuals every day all trying to achieve the same goal, you become friends with them; you spend months away from home with them, in hotels, eating dinner. They are like family, and then one day you're told you're not a part of that family any more. This is going to be a tough obstacle for Boudreau to overcome; the good news is Anaheim does not play Washington again this season, so at least minimal catalysts to ignite Boudreau's emotions.
East vs. West
Boudreau is a solid Eastern Conference coach but the west is a much different story. The style of play and the caliber of the Western Conference is far different. Remember last year's playoff race? String a couple of wins together and move from 12th to 4th? What I can say is that i think Boudreau is going to feed off this intensity and the players will also respond.
The Players
Another overwhelming factor is how this house cleaning will affect the players. Not only was Randy Carlyle fired but also Assistant Coaches Dave Farrish and Mike Foligno.  I think it's going to take the players some time to completely warm up to the new leadership.  What I would hope to see is the veterans on the team step up and supports the newer guys in what can be described as being similar to having your parents separate.
What I Would Like To See
With the changing of the guard in Anaheim I would really like to see a more aggressive style of offense.  I would like to see the goaltender dump the puck into the offensive zone more often.  I would like to see Ellis get some more ice time when he returns.  I would like to see the players have some fun out there.
What To Expect Moving Forward
You can expect the Ducks to be energized right out of the gate if Randy Carlyle is in fact a huge downer in the locker room.  Have you ever went to work and thought to yourself that your boss was just full of it and didn't know what they were talking about?  Well that could have been how the players felt at this point.  Only time will show if it makes a solid difference.
In one of my more favored and overlooked moves in this shakeup, Bob Murray bringing up Brad Lauer.  This was the best decision he could have possibly ever made.  Brad is very close with all of the players who are top performers in Syracuse, which will allow Boudreau to make much more informed decisions in sending players up and down. I expect to see a lot of this.
I also expect to see some major line changes. Boudreau is going to have to get his own feeling for the players and see who will fit where in the master plan, so I expect some almost unthinkable line changes to happen right from the start.
What Not To Expect 
Do not expect instant wins, it's just not going to happen.  There is going to be a minimum 30 day period of everyone getting to know one another and develop a good rapport and relationship.  Going back to what I mentioned earlier, if in fact Carlyle was a downer in the locker room, then we may see a few wins here and there.
Do not expect a Stanley Cup Team this year.  I do think that the new coaching staff and the ducks have a shot to make the playoffs; there is just so much talent that can't be overlooked.  But learning how to work as a unit during playoff hockey is also something that needs to be nurtured.
Sidebar
One of the funniest things I read on twitter this morning was from @Earlsleek who said:
"It really was a tough way for Carlyle to get canned, but I guess he just "has to find that inner peace in himself to deal with it."
"
On that note it's going to be one hell of a game tomorrow, and should be an interesting press conference here in a couple of hours.
Owen